Confluency Colloquium
CONFLUENCY: A flowing together of transdisciplinary and arts-based approaches towards just water futures
Unique conference format: Co-creating an interactive mobile art exhibit
Register here: bit.ly/ConfluencyReg 
Download the flyer and program here.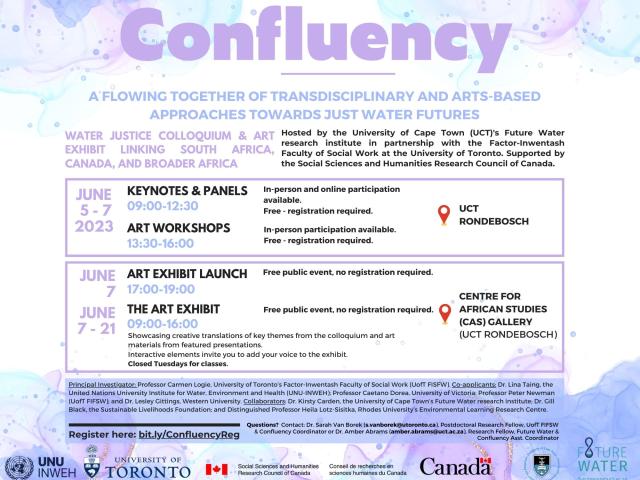 Hosted by the University of Cape Town (UCT)'s Future Water research institute in partnership with the Factor-Inwentash Faculty of Social Work at the University of Toronto.
Supported by the Social Sciences and Humanities Research Council of Canada. 
When:             June 5-7, 2023
Where:           Future Water research institute: University of Cape Town (UCT), South Africa
What:               A water justice-focused colloquium showcasing Global South thought leadership and  best practices while fostering multi-disciplinary                                                                       exchanges, resulting in an interactive, mobile art exhibit, linking Canada and South Africa
Who:                Global South and North academics, policy makers, youth, non-profits, activists, and artists
Topics:             Day 1: Indigenous and Local Knowledge in Water Justice
                         Day 2: Participatory Water Governance
                         Day 3: Arts-Based Water Justice Research with Marginalized Populations
Panel Discussions - Arts-Based Workshops - Keynote Speakers
Unique conference format: Co-creating an interactive mobile art exhibit
The colloquium will be hosted in two distinct spaces: 1) one traditional seminar/lecture hall for keynote and panel presenters; and 2) one open space for ongoing arts-based workshops and knowledge translation activities. Interactive arts-based workshop sessions with multidisciplinary attendees will be held each afternoon to build upon keynote and panel discussions. These will be facilitated by co-researchers (community members involved in arts-based research projects), artists, and artist-scholars, who will support colloquium presenters and attendees in translating key theoretical and metholodogical knowledge from the event into elements of the interactive art exhibit. The exhibit will also showcase arts-based research materials from projects presented at the colloquium. The mobile art exhibit will launch on the final evening of the colloquium and be hosted at UCT for 2 weeks. The exhibit will then be hosted for up to one month in each of the following institutions in 2023: Rhodes University (South Africa), the University of Toronto's Factor-Inwentash Faculty of Social Work, the University of Victoria, Western University, and the United Nations University Institute for Water, Environment and Health/McMaster University in Canada. We will strategically design interactive elements in the exhibit, so visitor contributions will cumulatively become part of the exhibit, situating visitors as co-creators in this knowledge translation and exchange process.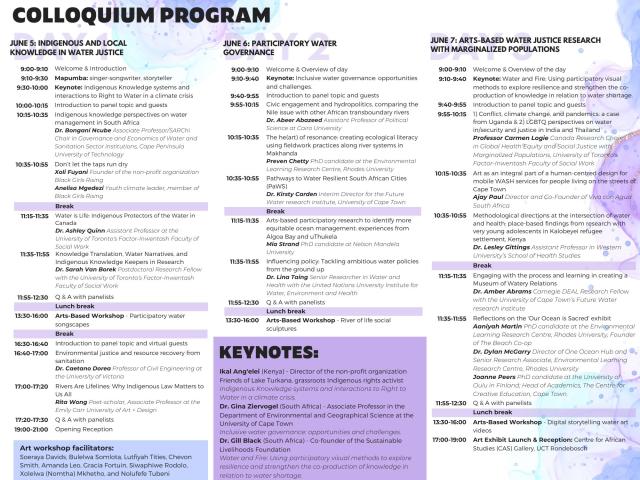 Some presentations will be live, however, others will be virtual or pre-recorded; Virtual: Dr. Caetano Dorea, Rita Wong; 

Pre-recorded: Mia Strand, Aaniyah Martin/Joanne Peers/Dr. Dylan McGarry

Presenter Bios:

Mapumba Cilombo is a singer-songwriter, storyteller, music producer, and voice for wellbeing based in Cape Town, South Africa. His sound is a blend of afro folk, soul, and dance which is rooted in many global influences alongside his Congolese DR roots. Mapumba has toured around Africa, the US and Europe with various projects, and has shared the stage with music legends. Making music is Mapumba's wellbeing practice. He performs and records for a living to share that grounding with the world. @mapumbamusic www.mapumbamusic.com

Ikal Ang'elei, Director of the non-profit organization Friends of Lake Turkana, is a grassroots Indigenous rights activist with an interest in human, land, and territorial rights, environmental, water and energy justice. She has a particular interest in the political ecology of Indigenous land and territorial struggles, frontier expansion, and green territorialization. She works towards the participation of Indigenous, grassroots groups and especially women and youth in demanding access, control and decision making within their territories. Ikal believes that anti-patriarchal struggle cuts across every struggle for justice. She is a Goldman Environmental Prize winner 2012 for her environmental justice work to protect Lake Turkana, its ecosystem, and the communities.

Dr. Abeer Abazeed is Assistant Professor of Political Science at the Faculty of Economics and Political Sciences in Cairo University. Her PhD research entitled 'Is it one Nile? civic engagement and hydropolitics in the Eastern Nile Basin: the case of Egypt, Sudan and Ethiopia'; tackles the role of civil society in hydropolitics applying the social network analysis (SNA). Abazeed has a BSc of Political Science from Cairo University and earned her MA degree from the American University in Cairo (AUC) on the topic of aid harmonization in African countries. Also, she got a diploma in Public Policy and Administration from the School of Global Affairs and Public Policy (GAPP) in AUC. She has published a number of journal articles, research papers as well as pieces in public newspapers and blogs in Arabic and English covering topics of Nile politics, civic engagement, foreign policy and African Affairs.

Dr. Bongani Ncube is a water and agricultural scientist with more than 25 years in research, academic and non-profit organisations. Since April 2022, she is leading the SARChi Research Chair in Governance and Economics of Water and Sanitation Sector Institutions (Cape Peninsula University of Technology), with broad objectives covering water security, governance, equity, and financial and economic viability of water sector institutions. She started in the public sector in 1995 before joining the International Crops Research Institute for the Semi-Arid Tropics (ICRISAT) in 2000. She left in 2000 after obtaining a PhD from Wageningen University, The Netherlands. She then joined WaterNet, where she led the multidisciplinary Limpopo Basin Challenge Program on Water and Food Project 17 until 2009. She migrated to the United Kingdom and worked for non-profits for about three years. She came to South Africa in 2013, where she is pursuing research on water allocation, water governance, drought impacts on agriculture, indigenous knowledge, and water resource management.

Dr. Ashley Quinn is an Assistant Professor at the University of Toronto's (UofT) Factor-Inwentash Faculty of Social Work (FIFSW). Dr. Quinn received a Joseph Armand Bombardier SSHRC scholarship for doctoral research, also based at UofT's FIFSW, on the factors contributing to cultural identity and the development of community-based outcome measures for Indigenous families involved in the child welfare system. The aim of this research was to establish and improve funding towards Indigenous governance and policy, to promote the development of cultural strengths-based services and to help build capacity with regards to program and policy development, implementation, and evaluation within a culturally relevant research framework. Dr. Quinn's current research interests focus on Indigenous research methods and ethics protocols including further exploration of culturally engaged caregiving in the child welfare system, Indigenous Alternative Dispute Resolution programs for Indigenous families who have had their children apprehended by the child welfare system, the application of Indigenous historical, contextual and contemporary factors in criminal, family and child welfare law matters, and wholistic approaches and Indigenous perspectives in social work education. 

Poet-scholar Rita Wong (Associate Professor, Emily Carr University of Art + Design) dwells with the relationships between contemporary poetics, water justice, ecology, and decolonization. She has co-edited an anthology with Dorothy Christian entitled Downstream: Reimagining Water (2017). A recipient of the Dorothy Livesay Poetry Prize and the Asian Canadian Writers' Workshop Emerging Writer Award, Wong is the author of current, climate (2021), beholden (with Fred Wah), undercurrent (2015), perpetual (with Cindy Mochizuki), sybil unrest (with Larissa Lai), forage (Nightwood, awarded Canada Reads Poetry 2011), and monkeypuzzle (1998).

Dr. Caetano Dorea is Professor of Civil Engineering at the University of Victoria. Dr. Dorea's interests and expertise are at the crossroads of environmental and public health engineering. This includes the development and evaluation of water and sanitation/wastewater technologies, field- and operator-appropriate water/wastewater/faecal sludge quality analytical methods, and functional ecology characterisation of biological treatment systems for safeguarding the health of the public and the environment. His activities are focused both on developing countries and in industrialized countries with projects ranging from the development of methods for the online monitoring and control of disinfection by products in Canadian municipalities to the delivery of safe water and sanitation for humanitarian relief.

Anelisa Mgedezi is a youth leader in climate activism based in Cape Town, South Africa. Anelisa regularly speaks out on issues that directly affect our planet, for example, being involved in a court case to stop the South African government from expanding its coal fleet in Mpumalanga with another 1,500MW power station; and advocating for Anelisa's school to start a vegetable garden and plant more trees. Anelisa is a member of Black Girls Rising – a Cape Town-based non-profit which aims to raise well-informed and empowered Black girl leaders to be in the forefront of climate action; and was formerly a member of the non-profit Earthchild Project.

Dr. Gina Ziervogel is Associate Professor in the Department of Environmental and Geographical Science at the University of Cape Town. Over the past 6 years Gina's work has focused on urban water governance for resilience in Cape Town. Her research focuses on climate change adaptation and development across scales from the household to municipal level with a focus on water, urban governance, and resilience issues.  Methodologically she is interested in engaged scholarship and transdisciplinary projects that bring together civil society, government, and academics to address problems collaboratively. She was a lead author on the Intergovernmental Panel on Climate Change (IPCC) 6th Assessment report, Cities, settlements, and key infrastructure chapter and has authored numerous papers, book chapters and popular articles. Drawing on her research, she co-wrote a book about the Cape Town drought with Leonie Joubert, a science journalist (www.dayzero.org.za).

Ajay Paul is the Director and Co-Founder of the social business Viva con Agua South Africa, holds a Masters degree in Water and Environmental Management from Loughborough University, and has 25 years working in the WASH sector. He has extensive experience in disaster and humanitarian relief in relation to WASH in Global contexts including the Philippines, Malawi, Mozambique, Zimbabwe, and India. Viva con Agua SA's latest project (WASH-Bus) is reaching out to people on the streets of Cape Town with water, sanitation, and hygiene services. Viva con Agua SA is also trying to build an online platform for people and companies to off-set their water use. They want to grow this into a B2B platform to support young South African entrepreneurs in the WASH sector.

Dr. Kirsty Carden has over 30 years of experience working in academia, for government and the private sector in the field of urban water management in South Africa and is well-networked within the water professional space. She is an Associate Professor in the Department of Civil Engineering and also the interim Director for the Future Water research institute at the University of Cape Town (UCT). She has significant expertise and experience in conceptualizing and leading national and internationally funded transdisciplinary research projects related to issues of water scarcity. Her own research interests include integrated approaches geared towards sustainable urban development and water sensitive design / water sensitive cities.

Mia Strand is a PhD candidate and an early career researcher with Nelson Mandela University, the Institute for Coastal and Marine Research and the One Ocean Hub. Having conducted an in-depth research project with a transdisciplinary team doing arts-based participatory research with Indigenous and local knowledge holders as co-researchers in Algoa Bay in the Eastern Cape and eMacambini Traditional Authority in KwaZulu-Natal, Mia Strand offers perspectives around the need for transdisciplinary knowledge co-production with local communities to inform more just and inclusive ocean management, and the opportunities of arts-based methods to reimagine ocean governance that is more equitable and accessible. Mia also works on issues of children's rights to a healthy ocean, marine cultural heritage research and management, marine spatial planning in the Western Indian Ocean region and increased participation of Indigenous and local communities, children and youth, and civil society more broadly in decision-making on areas beyond national jurisdiction.

Dr. Lina Taing is a Senior Researcher in Water and Health with the United Nations University Institute for Water, Environment and Health.  Dr Taing has over a decade of research, project management and capacity building experience in the WASH and HIV sectors. She holds a PhD in Public Administration from the University of Cape Town; her doctoral research unpacked complex challenges that South Africa faced when servicing informal settlements. Dr. Taing brings extensive field research experience as an ethnographer participating in/observing local community and municipal WASH practices; community-level methods include transect walks to map local WASH infrastructure; and knowledge translation and global policy bridging experience at two UN-associated research institutes, including the UN's only think tank on water.

Dr. Gill Black began her career as a biomedical scientist trained in infectious diseases and human immunology. Her immunology fieldwork in the north of Brazil, rural Malawi and urban South Africa involved interacting with research participants in marginalized community settings and she became increasingly concerned about the lack of engagement in the health science research she was supporting. This concern catalyzed her transition to the Sustainable Livelihoods Foundation (SLF), an independent, non-profit research and engagement organization that she co-founded with her two co-directors in 2010. Participatory action research and community engagement in research have been central components of her work at SLF over the past 12 years, covering a range of topics including tuberculosis, HIV, cardiovascular disease, community safety, food security and water security. During this time, she has developed capacity in the ethics of research and community engagement and has gained a specialist skill set in visual and creative methods.

Preven Chetty is currently completing his doctoral study at Rhodes University's Environmental Learning Research Centre on resonance building praxis and enabling ecologically literate learners through practical fieldwork activities in riparian systems. Chetty is also the Project Manager and Research Coordinator for TRANSECTS South Africa, a 6-year initiative offering an enhanced education experience in sustainability science and practice for graduate students and practitioners. Chetty has been working in the field of environmental education (EE), school-based education, outdoor education and teacher education for more than 15 years. He has worked with/for the Outward Bound, Ethekwini Municipality, Department Of Education, WESSA, DUCT, Greenpeace Africa, UKZN, UNISA, Earthwatch, Rhodes University and other EE initiatives throughout this time. In 2012, together with a small group of ecowarriors from the Duzi Umgeni Conservation Trust, they walked the entire length of the Umgeni River monitoring water quality and engaging in EE activities along its banks with school learners. This led to further explorations and EE work along the catchment throughout the decade.

Professor Carmen Logie is Canada Research Chair in Global Health Equity and Social Justice with Marginalized Populations at the University of Toronto's Factor-Inwentash Faculty of Social Work; Adjunct Professor, United Nations University Institute for Water, Environment & Health; Research Scientist at Women's College Research Institute; ns Research Scientist, Centre for Gender & Sexual Health Equity. Dr. Logie's research program advances understanding of, and develops interventions to address, stigma and other social ecological factors associated with HIV and STI prevention and care. She is particularly interested in understanding and addressing intersectional stigma and its sexual, reproductive, and mental health impacts, with a focus on HIV and STI. Her current research focuses on HIV/STI prevention, testing and care cascades in Canada, Uganda and Jamaica with people living with HIV, refugee and other displaced youth, LGBT communities, Indigenous youth, sex workers, and persons at the intersection of these identities. Dr. Logie has been awarded funding from the Canadian Institutes of Health Research (CIHR), CIHR Clinical Trials Network, Social Sciences & Humanities Research Council of Canada, Grand Challenges Canada, Canada Research Chairs, and Canada Foundation for Innovation (CFI), to lead global research focused on sexual health and rights. She directs the CFI 'Stigma & Sexual Health Interventions to Nurture Empowerment' (SSHINE) Lab, collaborates with the World Health Organization (WHO) and was a guideline development member for the WHO Consolidated Guidelines on Self-care Interventions for Health: Sexual and Reproductive Health & Rights, including the Classification of self-care interventions for health: a shared language to describe the uses of self-care interventions.  Dr. Logie has published more than 200 articles, cited more than 7500 times. She is Deputy Editor at the Journal of the International AIDS Society and on the Editorial Boards for Social Science & Medicine Mental Health and PLOS Global Health. Her co-edited book LGBTQ Mental Health: International Perspectives and Experiences was published by the American Psychological Association in October 2019. Her latest book Working with Excluded Populations in HIV: Hard to Reach or Out of Sight? was published in 2021 as part of the Social Aspects of HIV Series. In 2020, Dr. Logie launched the 'Everybody Hates Me: Let's Talk About Stigma' podcast with stigma experts from across the world, with nearly 10,000 downloads as of August 2021, found everywhere that podcasts are found.  

Dr. Lesley Gittings is Assistant Professor in Western University's School of Health Studies.
Dr. Gittings is a community-engaged health equity researcher with an interest in the social, environmental and structural factors that shape health across the life course. Her research focuses on: (1) social determinants of HIV and sexual and reproductive health; and (2) participatory and art-based approaches for youth empowerment and well-being. She engages culturally grounded, strengths-based approaches rooted in social justice. Gittings is currently an investigator on studies in Southern Africa, Eastern Africa and Canada, with youth populations facing social, structural and environmental barriers to health equity. These include: adolescents living with HIV in South Africa, climate change affected adolescents in Kenya, refugee youth in Uganda; Indigenous and Northern young people in the Northwest Territories and youth experiencing homelessness in Toronto. Gittings is also a research associate at the University of Cape Town and has worked in the HIV and health sectors in Canada, Southern and Eastern Africa for 15 years.

Aaniyah Martin focuses on work that connects people and nature. She has 15 years of experience in the conservation sector with a strong emphasis on finding the balance for what is good for the earth and good for the people. In 2021 she was selected as one of 20 African female conservationists to participate in the first cohort of Women for the Environment in Africa, a leadership program for African women. Her current occupations include being a registered doctoral student at the Environmental Learning Research Centre, Rhodes University, South Africa; Founder of The Beach Co-op non-profit organization; Understanding and Adapting Lead for Women for the Environment in Africa; and Science co-facilitator for Homeward Bound.

Joanne Peers is a PhD candidate at The University of Oulu in Finland pursuing relationality in environmental education through thinking with bodies, water, time, memory and space. Her interest in justice and activism in the Global South brings watery ways of relating to oceans, environments and education. She is the Head of Academics at The Centre for Creative Education in Cape Town. Her unique position of working in Higher Education and fulfilling the role as collaborator with resourced and under-resourced public schools in Cape Town brings academia and practice in education closer together. Joanne shares her life in Muizenberg with companion species (dogs and other critters) and is held in the care of being a mother and in community with others. 

Dr. Dylan McGarry is a Senior Research Associate of the , and Senior Researcher at the Environmental Learning Research Centre (ELRC) at Rhodes University; as well as Director of the One Ocean Hub at ELRC. He hosts the emerging Institute of Uncanny Justness and works in the areas of social-ecological justice, transformative social learning, activism, empatheatre and earth jurisprudence. In early 2019, Dylan takes up a co-lead role for two major work packages in the Global Challenges Research Programme's One Ocean Hub.  The £20 million One Ocean Hub is one of twelve innovation hub programmes approved by the UK Research Innovation's Global Challenges Research Fund,  to respond to seemingly intractable global challenges through coordinated and  transformative research approaches. This is a major global research programme to influence ocean health and governance for sustainability involving over 50 international partners.

Dr. Amber Abrams is a Carnegie DEAL Research Fellow with the University of Cape Town's Future Water research institute. As a research fellow focused on social sciences and human health around water, Dr. Abrams works on numerous projects. Dr. Abrams is a public health and anthropology trained researcher, with many years in clinical, research, and educational settings making use of arts-based approaches in countries like South Africa, the US, the UK and Denmark, and transdisciplinary efforts in the places named above, but also in Costa Rica with over 15 years of experience. Abrams has been researching topics associated with water since 2013.

Dr. Sarah Van Borek is an audiovisual methodologist focused on water and wellbeing through a decolonial lens. She is currently a Postdoctoral Research Fellow with the University of Toronto's Factor-Inwentash Faculty of Social Work. Dr. Van Borek is co-developing and implementing innovative participatory multimedia research methodologies, including music, dance, photos, videos, drawing, mapping, and geospatial information systems (GIS) to engage youth in Kenya on topics of water, food, and sanitation towards planetary health. She co-designed/facilitated multimedia participatory mapping workshops with women in Congo Republic; and supports various projects by exploring innovative modes of knowledge translation. Dr. Van Borek has a PhD in Environmental Education from Rhodes University, South Africa, where she explored water justice, reconciliation, and decolonizing higher education through a media arts-based water curriculum she piloted in South Africa and Canada. She also has a Masters degree in Film and TV from the University of Cape Town. From 2012-2021, Van Borek taught undergraduate courses with the Emily Carr University of Art + Design (Canada).

Xoli Fuyani is an Eco-Role Model, Environmental Education Consultant and Founder of the non-profit organization Black Girls Rising, dedicated to empowering young Black women as climate leaders. Xoli is currently a Climate Education Thematic Expert with the African Climate Alliance, a youth-led grassroots movement-based organization acting and advocating for afrocentric climate justice, and Environmental Education Program Manager with Earthchild Project. Xoli was previously an Eco-Schools Node Coordinator with the Wildlife and Environment Society of South Africa (WESSA).
Questions? Contact: Dr. Sarah Van Borek (s.vanborek@utoronto.ca), Postdoctoral Research Fellow, UofT FIFSW & Confluency Coordinator or Dr. Amber Abrams (amber.abrams@uct.ac.za), Research Fellow, Future Water & Confluency Asst. Coordinator